Publisher's Preface
"Drink from it, all of you; this cup is the new testament in my blood, which is shed for you for the forgiveness of sins."
By these words, did Jesus give the Church a sacrament, or did He require from us a sacrifice? What is a testament? What did Jesus want us to receive? How does that affect the way to administer the Sacrament?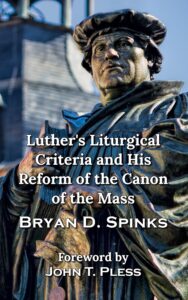 Luther addressed this when he reformed the Canon of the Mass. For his reform, Luther is branded a liturgical hack. Was he a hack or a surgeon?
Because of how clouded over much scholarship in this field has been, achieving a fair and accurate treatment is not as simple as it should be. How can we clear the fog and once more see the Mass in a simple way that benefits ordinary Christians with what Jesus gives in his testament?
Bryan D. Spinks researches this in Luther. It requires industry. It takes heavy lifting, the labor of a historian, theologian, liturgist, and priest. Because of the workmanlike fashion in which Spinks proceeds, he succeeds at what he set out to do: Let Luther answer for himself.
This achievement gives Spinks' work, Luther's Liturgical Criteria and His Reform of the Canon of the Mass, an exceptional place in the literature. A new audience needs it. This is why it should be republished. First published in 1982, it has gone out of print. Used copies are rare and expensive. Dr. Spinks once more gives a precious gift to the Church by readily and graciously granting his permission for this new edition.
Read Spinks and you will hear Luther.
Luther believed the gospel to be a declaration of the love and forgiveness of God—of what God had done for us. The canon, however, is preoccupied with what we are doing for God. It was precisely this which meant that the canon was incompatible with the doctrine of justification.
Turn the Mass the right way around and receive that deeply personal sorrowful, yet consoling devotion which radiates from the mystery of the communion as Luther felt it.
________________________
Get the book on Amazon:
Kindle – $0.99
Paperback – $3.70